AEG PRO18V DUAL BATTERY BRUSHLESS COMPRESSOR Without battery and charger
السعر الاصلي
1,788.00
-
السعر الاصلي
1,788.00
PRO18V DUAL BATTERY BRUSHLESS COMPRESSOR
Without battery and charger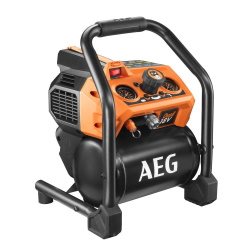 Dual 18V for longer runtime
3.8L tank with roll cage for portability and protection
Pressure regulater knob for accurate pressure adjustments with on board pressure gauge
Quick connect coupler for easy compatibility
Dual 18V Brushless Compressor
Offering extended runtime through an innovative, industry leading dual battery configuration, the cordless BK18-38BL 18V Brsuhless Compressor from AEG redefines the use of traditional corded compressors giving you a portable, powerful jobsite solution.
The BK18-38BL excels in meeting the demands of a wide variety of trades and jobsite demands. With its powerful, efficient brushless motor, alongside impressive portability the AEG brushless compressor delivers up to 8,3 bar of pressure to meet the most challenging applications wherever you are.
 
Why Cordless?
The AEG Dual 18V Brushless Compressor replaces your traditional compressor with a more lightweight and portable solution to make your life on the jobsite easier. Offering incredible portability in a light weight, ergonomic design compared to corded or petrol units. You can take the BK18-38BL wherever you go with simple portability and start-up, no fumes, zero compromises.

Brushless Power
With up to 50% longer runtime vs a brushed motor, AEG PROFLUX BRUSHLESS Motors improve runtime and offer superior performance, letting you get more jobs done on a single charge. The compact brushless motor allows for the BK18-8BL to maintain its small footprint, making it easy to get around the jobsite without sacrificing any power or performance.
 
Trades and applications
With its portable, lightweight body, alongside its dual battery configuration and powerful brushless motor, the BK18-38BL excels at meeting the demands of a wide range of trades and applications. In joinery and flooring applications the BK18-38BL shines in work with finishing nails both around door framing and fixing skirting boards with ease.

In metal applications, use the compressor with pneumatic rivet guns which are critical in metal working in a wide range of applications. Whether riveting metal together or using in construction and automotive applications, the BK18-38BL has the power and portability to easily get to and accomplish these tasks.

In agriculture and excavation applications, relying on pneumatic grease guns to keep machinery operating, this new compressor from AEG allows you to take the maintenance equipment with you into the field for less down time and more work, improving your efficiency.

Safety & Maintenance
The BK18-38BL has been designed with you in mind, to reduce maintenance needs and make the product safer than ever for you to use. Equipped with a no maintenance, oil free pump design, alongside an air filter to prevent motor damage, maintenance on the BK18-38BL is drastically reduced when compared to its corded competitors.

Overheating battery protection also ensures first class battery protection from damage and the included safety value allows you to easily depressurize the compressor should the need arise to do so.
Equipped with a roll cage to protect the compressor in transit whilst aiding portability. You really can take the BK18-38BL anywhere.

AEG's PRO18V system
AEG's PRO18V system offers you a range of market leading professional cordless tools covering all the core trades, that can be powered by the same battery.
 
Boasting state-of-the-art Pro Lithium-ion technology, the PRO18V system lets you switch the battery pack seamlessly between a diverse range of tools to cover almost any trade application, saving you money on every tool purchase.
 
One of the most advanced professional cordless systems on the market, the PRO18V batteries offer triple protection from the dangers of overload, overheating and over/under charging, while robust construction delivers extreme durability even in the harshest conditions.
 
The PRO18V batteries are completely backwards compatible with previous generations of AEG battery technology and, like the rest of the AEG Powertools range comes with a three-year warranty to ensure quality production and performance.